Adobe Premiere Rush (Ru)- Tutorial 1
Basic Edit in Rush
Difficulty: Baisc
What you will learn: Create a project in Premier Rush, Import media, Edit using a variety of tools, Export finished standalone media file
Download these files: Clips for tutorial (192 MB)
(pexels.com, freestockmusic.com)
The final product will look like this:

Step 1 - Create your project
If you haven't already, Open the link Clips for tutorial (192 MB) and unzip the file.
On your desktop, right click and make a new folder and name it ASSETS. Move the files you unzipped into this folder.
Open Adobe Creative cloud and find Premiere Rush and open it
Close the blue tutorial menu
Click the large blue 'Create a New Project' button
Find location of assets. Ours should be on the desktop > select all assets by clicking on them individually
Look at the bottom left and name your project > click on the gear and select 16:9 aspect ratio in project setup menu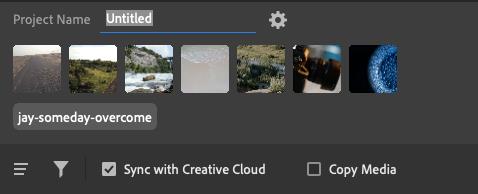 Click the blue 'create' button on the bottom right
Step 2 - work with drone Footage
Move the blue track head to a section (about 5 seconds in) of the first clip and click the 'cut' button on the bottom left
Select the section of the clip you wish to delete, click on the 'delete' button on the bottom left
Click on 'graphics' (the top button) on the far right, then click 'add graphics'
On the left, choose an 'overlay' and drag it into the workspace.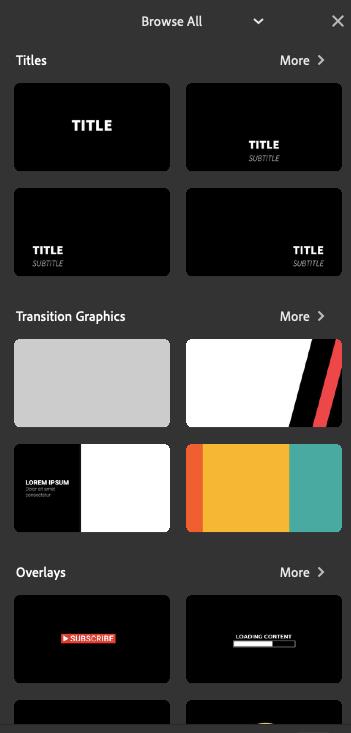 At the very bottom left click the 'control tracks' button.
This new popup allows you to toggle different video and audio tracks. Drag your overlay to a track above the footage.
Extend the overlay to cover the majority of the footage.
Click on the right edge of the footage, select 'effects' button on the right and choose an effect (I chose 'white')
Step 3 - edit river footage
Here we will add a transition graphic and colour correct the video
Select the footage and click the 'colour' button on the right. select the 'edit' tab at the top of the panel.
Click between this clip and the next clip (the one of the monk) and play with the settings to try and match the colours of both videos. Matching the colours will allow for a smoother transition.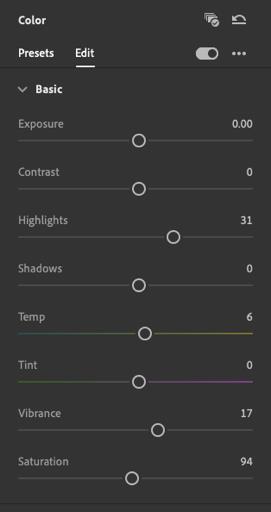 Next, we will add a graphic transition
Select the footage and click the 'graphics' button on the right. Click 'add graphic'
Click the 'more' button for 'transition graphics'. Select the 3rd transition > drag it into the project above the river clip. Click the text to edit it
Add another 'transition graphic'. choose one of the colourful 'transition graphics' and drag onto workspace in track above. Extend transition over the two clips
With the transition selected, click the 'crop and rotate' button on the right and drag the 'right' crop bar until the white is no longer seen. Drag the transition to desired length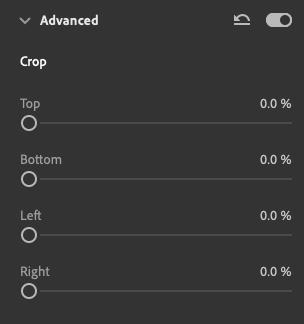 Step 4 - edit monk footage
Click onto the footage and click the 'speed' button on the right. Drag the right blue slider to just under halfway.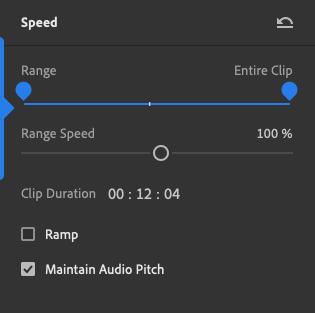 Move the grey 'range speed' slider to ~395% (clicking on the percentage and typing in the desired number also works)
Test the clip, making sure that the monk walking is sped up, and returns to regular speed when he faces the camera
Open the 'crop and rotate tab' and adjust settings and click the 'fill' button
Drag the video so that the monks face can be seen on the screen
Click on the right of the footage and add a 'slide' effect from the 'effects' tab
Step 5 - edit camera and liquid footage
Split this footage at around the halfway mark.
Drag the blue liquid footage to a new track above right split clip and drag the ends of the liquid footage to line it up with the camera footage
Add a 'dissolve' effect to the start of both the liquid and right camera clips
Click the liquid footage and bring up the 'crop and rotate' tab and change the 'basic' and 'crop' settings to these shown:
Bring up the 'color' tab and play around with the options
Click back to the right split camera footage, and click on the 'colour' tab, but look at the 'presets' and select 'mono'
Try and match the two clips in tone and colour using the 'presets' or open the 'edit' menu and have a go at manually editing the clip colour
On the end of both clips, add a 'dissolve' effect
Step 6 - edit beach footage
Click on the beach footage and find the 'speed' tab
Drag both blue sliders to a section in the middle of the 'range section'
Set 'range speed' to 400%
Click the 'ramp' box and drag the grey slider to 0.5s
This will give us a smooth transition between the sped up and regular sections of the footage
Add a 'slide right' effect to the end of this clip
Step 7 - edit car footage
Click on the clip and drag the blue view pointer to a section of the clip you want to cut and find the 'cut' button on the bottom left (I cut about 5 seconds of the car driving slower)
Select the smaller of the two videos and click the 'delete button' at the bottom left
Find and click the 'duplicate' button. Repeat this until you have four of the same clip
Click the 'control tracks' button and drag and arrange the clips so that they are on top of each other
From top to bottom, change the crop and position settings of each video as shown here:
1st:

Add a 'slide down' effect to both ends of the clip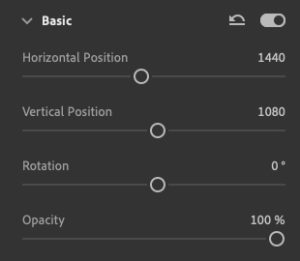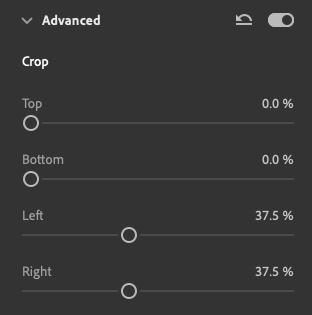 2nd: Add a 'slide up' effect to both ends of the clip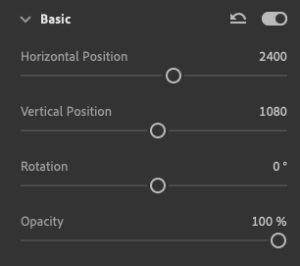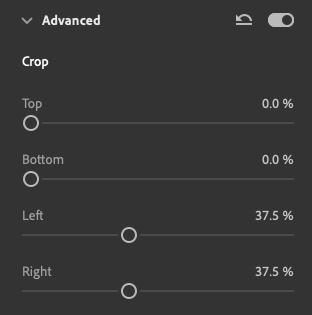 3rd: Add a 'slide left' effect to both ends of the clip. x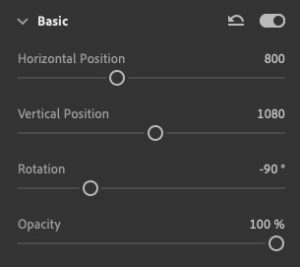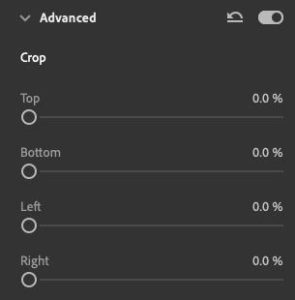 4th:

Add a 'slide right effect to both ends of the clip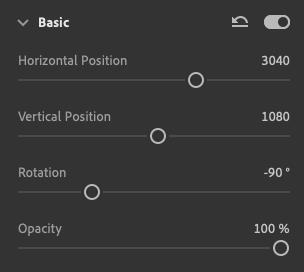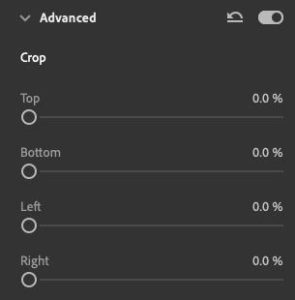 Once positioned correctly, play around with the 'flip vertically' and 'flip horizontally' buttons in the 'crop and rotate' tab to create the desired effect

Step 8 - audio and voiceovers
Audio tracks appear below video tracks
The audio track can be 'split', 'duplicated' and 'deleted', just like the video clips we have just edited
For this demo, the intro to the track was shortened and the ending was cut so that it fit inline with the length of the video
Audio volume, the, and channels can be edited under the 'Audio' tab on the right
To add a voice over, find and click the blue 'plus'  button at the top left, and then click the 'VoiceOver' button
This adds another audio track; this time with a red 'record'  button
Press this button, wait for the countdown and begin your VoiceOver. Note: Requires a microphone on your computer 
Click the button again to stop recording
Your VoiceOver track acts exactly like an audio track and cane edited accordingly
Step 9 - export final file
Once happy with the final video, find and click the 'share' button at the top left, which will open the export settings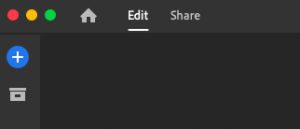 Here you can edit the file name, change the location you want the video to be exported, and change file settings such as resolution, frame rate, audio channels and quality
When you have selected your export settings, click the blue 'export' button on the bottom right and it will begin exporting your file
You can find your project file in the location you designated it
Additionally, you can select a preferred destination on the left, enabling you to post your video to multiple social media platform
Originally developed by Louis Anderson, April 2021